Sarah runs a post natal mother and baby exercise class in Worthing, West Sussex, called Pramtastic! currently on Fridays. If you are a new mother and want to get fit in a fun and social way, with expert guidance, then this class is for you.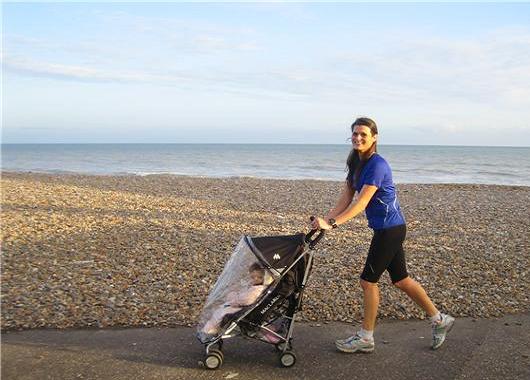 We meet at 9.45 on Friday mornings, with a view to adding more classes subject to demand. This year we are trialling a new venue, The Manor Sports Ground off the A24, in Broadwater.
The classes are open for all fitness levels and stages of post natal recovery, although mums must be at least 6wk/10wk postnatal and have had their G.P.'s check up and go ahead, prior to starting.
The classes are a mixture of power walking and/or jogging and resistance training using body weight and resistance bands. Sarah will adapt the exercises as necessary to your fitness level.
Mothers will be taught how to adopt and maintain correct posture whilst strengthening the weakened and over stretched muscles during pregnancy and child birth.
Before starting the class, ladies must complete a short health and fitness questionaire so I can be aware of any specific needs. This form must be brought along to your first class. Please arrive 15 minutes early if you need to register on the day. (Contact me through the link at the bottom of this page to request a form). All class details may be altered over time so please check this website regularly for updates and news.
Classes cost £30 for seven sessions, over the course of these sessions you will feel the benefit from the progressive Pramtastic! programme whilst developing core strength and learning safe and correct exercise technique.
See a few pictures of Pramtastic in Action
Pramtastic! top tips:
Any pram or buggy should be ok for Pramtastic! the height of the handles need to be adjusted so that your back is kept straight.
If breast feeding it is advisable to feed or express before the class so that breasts are not uncomfortably full.
It is advisable to wear a well fitted and supportive sports bra. If necessary you can wear a nursing bra underneath.
It is important to wear good quality trainers to the class.
Make sure you arrive hydrated to the class and bring a bottle of water with you.
Eat a light carbohydrate snack at least two hours before exercising. You need to maintain energy levels especially if breast feeding.
Bring toys to occupy the little one!
Contact Sarah by emailing: sarah@rkfc.com